What is Stormrider Press?
Stormrider Press was created in 2003 as a publishing label for my award winning series of motorcycle adventure books. There is more information about them here. Check 'em out. Buy a few! Support your local author!
<--click for bigger I hope to expand Stormrider Press with additional books, art, comics and graphic novels. Why is your banner on the old Blackmon Pharmacy building?
Two reasons.
1) We bought the building ("we" being the me and the wife). Hey, it had a tower and the price was right. I was powerless to resist. Apparently I have a *thing* for towers.
2) The "Blackmon Pharmacy" sign was confusing since the Blackmon Pharmacy moved to their new building several months ago. I felt it was a good thing to cover or remove the sign until we're ready for our new business.
Speaking of that…what do you have planned for the building?
Turns out, I'm an outstanding candy and ice-cream cook…I'm also, of course an author and somewhat of an artist. We're planning a Coffee house, Ice Cream, Soda fountain, Candy, Books, art, Internet cafe hang out kind of place. That's a little while in the future yet. We've got a LOT of work to do first. The bookstore/cafe will also serve as headquarters for Stormrider Press. More about that here.
Okay, so who are you?
Daniel Meyer
Author. Adventurer. Electrician.
That's me. It says so on my business card.
I am a native Texan (and lifelong Texas resident). After 27 years in the corporate world and watching our retirement plans dry up or get systematically yet somehow legally looted we decided we'd better start planning something different for our future. We chose Clarksville as we love the area (and east Texas in general) and we found and fell in love with our house there.
Our goal is to make our living with my published works and our business in Clarksville.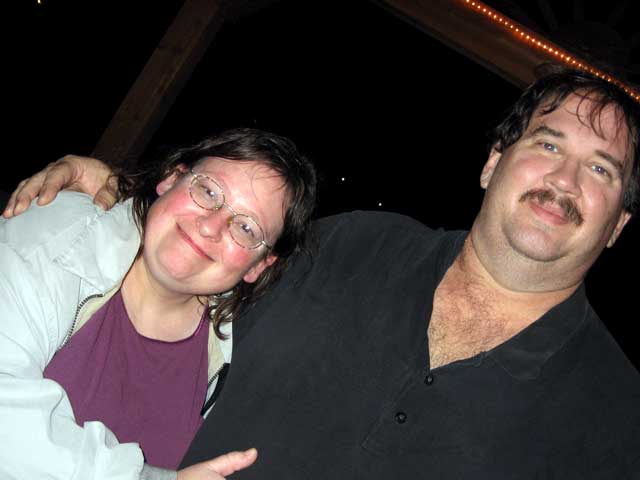 The prettier one in that picture is my better half, Carey, my wife of 20 years. We are working together to accomplish a lot…a major house rebuild, rennovating and repairing the building on the square, and moving all our plans forward.
Why "Stormrider Press"?
Stormrider is one of my nicknames, or roadnames…one I'm fairly fond of. You can read about that here. Stormrider is also the title of my upcoming fiction project.
The coffee shop will have a different name…we've an idea what that is but aren't quite ready to release it yet. We'll keep you posted on the news section of this website as to our plans and how they are progressing. Stay tuned!
CUAgain,
Daniel Meyer